Our Partnershipcommitees here St. Martin in Amron / Paupa New Guine
NATIONAL EVANGELIST TRAINING CENTER AMRON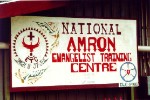 The Partnership Committee in Amron contents:
1. Principal of NETC Amron (chairman) , Pastor Hans Grauvogl
2. Teacher in NETC Amron (Pastor Mark Stanley)
3. Station Paster Honemaing Mongoing
4. Teacher for students women program in NETC Amron (Mrs. Kêkôc Lauya)
5. Student representatives (Mr. Alex Mathew 2nd Year)
6. Liaison Committee (Pastor Hans Gravuogl)
7. Liaison Committee (Mrs. Martha Mafon) may be, not in Amron at the time!
DEKANAT NEUSTADT / AISCH

The Partnership Committee in Deanery Neustadt /Aisch consists:
- Pastor Kerstin Sprügel, Community mission pastor
- Mrs. Renate Eppelein, Parish mission mandated
- Mrs. Esther Bünau-Kunz, Deputy Parish mission mandated